Owls are adorable!... Enough said.
If you don't agree, this DIY probably won't be your thing, sorry!
You see, I basically love anything that has a little owl on it, and luckily so does one of
my bestfriends!
This should hopefully make Christmas shopping a bit easier this year. -wink wink-
If you're like me, you'll understand just how frustrating it can be when you can't find that perfect gift for someone, but when you finally do, the feeling is amazing!
So to hopefully help some of you out with a gift idea I thought I'd share this cute little DIY owl necklace, enjoy!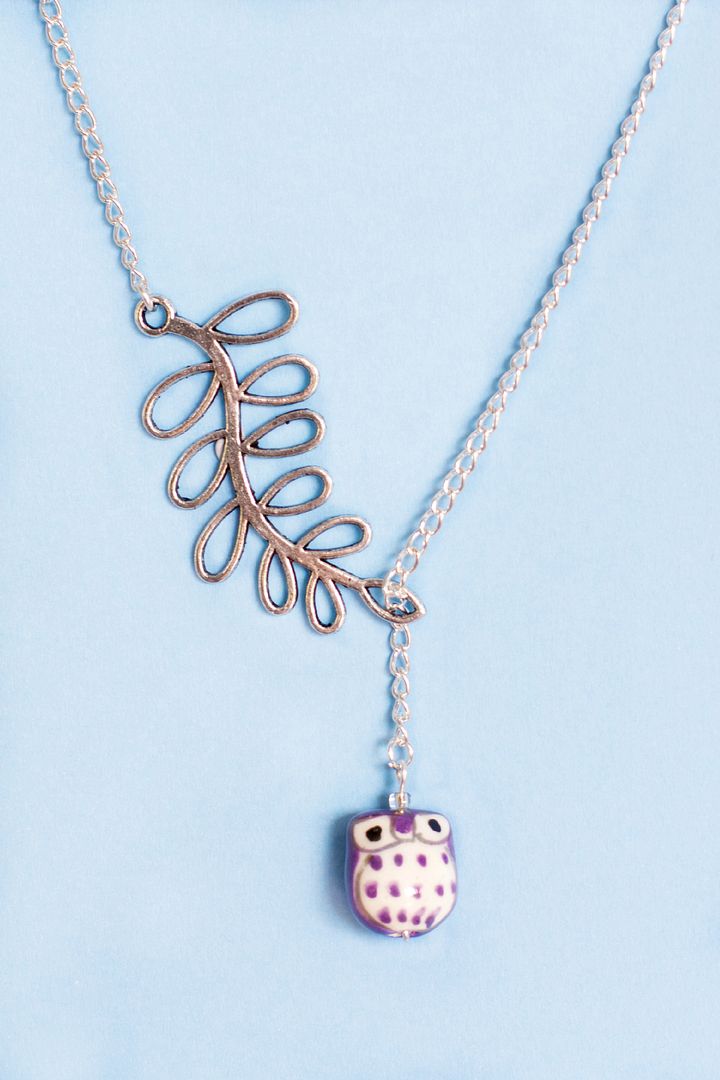 What You'll Need
1 Owl Bead
1 Clear Seed Bead
1 Silver Leaf Charm
1 Silver Eye Pin
2x 4mm Silver Jump Rings
50cm (19.5 Inches) of Silver Chain
Wire Cutters
Round Nose Pliers
Chain Nose Pliers
~ Tutorial ~
Step 1
~ Gather all your supplies before starting. I bought my owl bead
HERE
on ebay. Their store has lots of lovely owl beads, in all sorts of different colours! I've also seen many leaf charms on ebay as well if you're unable to buy one at your local bead/craft store.
Step 2
~ Start of by threading your owl bead onto your eye pin, followed by your clear seed bead.
Then, taking your round nose pliers, make a small loop. Cut of any excess wire with your wire cutters.
Step 3~ Taking your chain nose pliers, open up one of your jump rings. Then string one end of your 50cm chain onto your jump ring, as well as the owl pendant you made previously before closing the jump ring back up again.
Step 4~Now taking the other end of your 50cm chain, thread it through the top leaf of your leaf charm. Taking your chain nose pliers, open up your other jump ring. Then string the end of the 50cm chain that has nothing attached to it yet onto your jump ring, as well as the bottom of the leaf charm before closing the jump ring back up again.
Optional: If your necklace is unable to easily fit over your head you can add a clasp at the back. You'll need a silver parrot clasp set as well as two 4mm jump rings. Taking your wire cutters you'll want to cut your 50cm in the middle at the back (Where the nape of your neck is). Then taking your chain nose pliers, attach one end of the clasp to the end of one of the pieces of chain, and the other end of the clasp to the other end of chain using your 2 jump rings. When you're done be sure to close both jump rings back up.
Now it's time for my favourite part...
Wearing the necklace!
I hope you all enjoyed this adorable little tutorial!
If you did make this necklace, please post a photo of it too my Facebook Page.
I'd love to see it.
Have a lovely day crafting everyone!